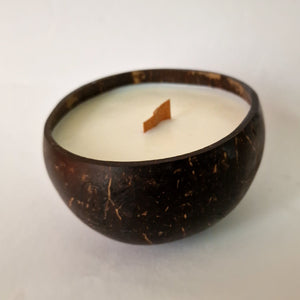 Autumn Vibe Eco-Friendly Vegan Kaars in een kokosnootschil!
Regular price
€31,31
Sale price
€27,27
Tax included.
Shipping
calculated at checkout.
---
Herfst is hier, en dat betekent... Candle Season! De bladeren vallen, de lucht is fris, en het is tijd om je huis om te toveren tot een warm en gezellig toevluchtsoord. En wat is een betere manier om dat te doen dan met onze betoverende herfstkaarsen?
🕯️ Speciaal voor Jou! Speciaal voor jou hebben we vier unieke en verleidelijke geuren gecreëerd die je huis zullen vullen met de essentie van de herfst en je zintuigen zullen prikkelen. Maak je klaar om verliefd te worden op:
Cinnamon & Apple - Een zoete en kruidige symfonie die je doet denken aan versgebakken appeltaart.
Pumpkin Spice - De ultieme herfstgeur, warm, kruidig en oh zo verslavend!
Gingerbread - Een rijke, warme geur die je huis vult met de heerlijke aroma van versgebakken koekjes.
Frankincense and Myrrh - Een koninklijke en mystieke blend, het eerste cadeau van Jezus, perfect om te mediteren en te reflecteren.
💃 Stijlvol & Krachtig in een kokosnoot à la Bysanaah.nl Deze kaarsen zijn niet alleen een traktatie voor je neus, maar ook een lust voor het oog! Ze zijn een herinnering om je licht te laten schijnen en je dromen na te jagen, zelfs als de dagen korter worden.
🏡 Maak je Huis een Cosy Home Laat de magie van de herfst je huis binnenstromen en transformeer je woonruimte in een warme, uitnodigende en gezellige plek. Of je nu een boek leest, mediteert, of geniet van een kopje thee, deze kaarsen zullen de perfecte sfeer creëren.
💖 Voel de Liefde & Warmte Deze kaarsen zijn meer dan alleen een geur. Ze zijn een ervaring, een gevoel, een uitnodiging om de liefde en warmte van de herfst te omarmen. Ze zullen je hart verwarmen en je ziel voeden, en je zult ze gewoon in huis móeten hebben!
🎁 Perfect als Cadeau Op zoek naar het perfecte cadeau? Verwen jezelf of je dierbaren met deze betoverende herfstkaarsen en deel de magie en warmte van de herfst!
🌟 Bestel Nu & Voel de Magie! Wacht niet langer! Bestel nu en laat de magie van deze herfstkaarsen je leven verlichten en verrijken!
Gemaakt van: koolzaad- en kokosolie en verder niets anders. Mijn kaarsen zijn volledig vrij van paraffine, soja, palm, bijenwas en andere synthetische toevoegingen. De houten lonten zijn gemaakt van lokale esdoorns. Ook zijn al mijn up-cycled kokosnootschalen eerlijk en natuurlijk
Gemaakt in: Deze handgemaakte eco-friendly vegan geurkaars is in Nederland gemaakt.
Geef je kaars alle liefde:
Leg je kaars altijd op een schaaltje
Laat je kaars nooit onbeheerd achter
Laat je kaars nooit langer dan 4 uur branden
trim je lontje
Is er nog 2 cm was over in je kaars? Brand je kaars niet meer! 
Wees geen verspiller! 
De natuur heeft ons een kokosnoot cadeau gegeven. Laten wij haar geschenken met dankbaarheid behandelen. 
Wanneer je nog een beetje was over hebt. Dan kan jij je laatste restjes was in een oliebrander gieten. Jouw prachtige kokosnootschaal kun je schoonmaken met warmwater en gebruiken voor wat anders. Je kan bijvoorbeeld een lege kokosnootschaal gebruiken als kom of als een pot voor een plantje. Ook is het mogelijk om lege kokosnootschaal weer terug aan mij te geven voor korting op je volgende aankoop.
Size: Small around Dia 9 cm-11 X H6,5cm.
Disclaimer: deze producten dienen niet ter vervanging van medische of andere professionele hulp, zorg of ondersteuning. Raadpleeg bij gezondheidsklachten altijd een gecertificeerde arts.